Predict the Oscar Winners to Win a DVD Prize Package
Predict the Oscar Winners and Win a Prize Package!
The Oscars are just a few days away, and we have everything you need for the big night! First, check out our brand-new printable ballot — download by clicking here. It's the perfect addition to your Oscar night, whether you're having a big bash or just want to compete with your friends. Plus, Yum has all the details on the Governors Ball menu and party planning tips for your own Oscars bash.
You, too, can be a winner: if you've yet to fill out my Oscar ballot, then you're missing out! You could win a huge DVD prize package, so be sure pick your choice in each and every category to be eligible to win. Need help choosing? Get hints with my category breakdowns.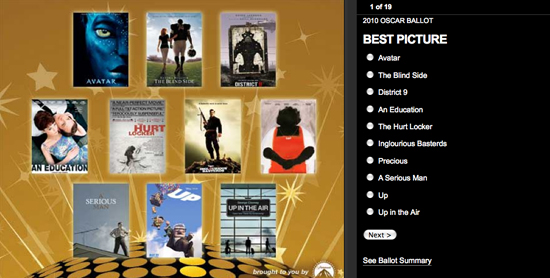 The grand prize includes limited-edition items from four Oscar nominated films: Up in the Air, Star Trek, The Lovely Bones, and Transformers: Revenge of the Fallen, courtesy of our friends at Paramount Pictures! That's not all — the winner will also receive the ultimate Oscar movie collection: a 30-plus DVD package from Paramount of past Academy Award-winning films including such favorites as American Beauty, Gladiator, Forrest Gump, Ghost, The Godfather, Indiana Jones and the Raiders of the Lost Ark, Sunset Boulevard, The Curious Case of Benjamin Button, Saving Private Ryan, There Will Be Blood, Titanic, Love Story, Roman Holiday, Fatal Attraction, Witness, Romeo and Juliet, and much, much more!
All you have to do to enter is click here and start making your Oscar winner picks. You must be a registered member of the PopSugar Network to join in, and if you're not a member yet, that's OK: just go here to sign up. Check out the official rules here, and you have until noon PST on March 7 to enter — so start predicting your winners now!