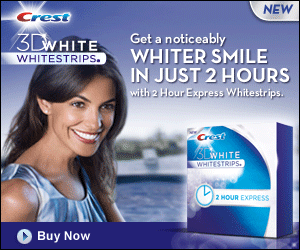 Your wedding day is one of the most important days of your life (and certainly the most photographed), so it's important to look and feel picture perfect all day. And that starts with a killer white smile.
So don't fret our newly engaged pet! Crest 3D 2-hour Express Whitestrips can help get your teeth in tip-top shape, and luckily the new Crest 3D 2-hour Express Whitestrips are available to purchase now. Meaning your wedding day will be full of wonderful memories and not a care in the world!
Click here to purchase your pack of Crest 3D White 2-hour Express Whitestrips, and be on your way to wedded, smiley bliss.