Pro Tips For Covering a Pimple
How the Pros Cover a Pimple Prerunway
Even models get pimples, so Allure talked to the pros on how they cover zits up before models hit the runway.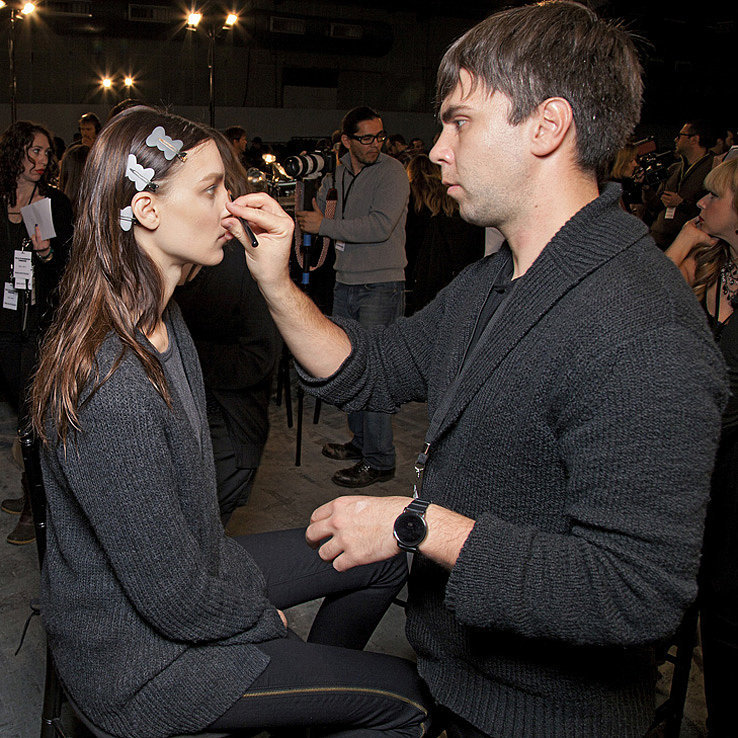 When I interview a makeup artist backstage at a fashion show, the last thing we talk about is zits. (How pedestrian!) But here's the thing: Even with their amazing DNA, models still get pimples, and they still need to get covered up, especially when there is very little makeup in the look for a show, as there was at Balmain in Paris today. "We're using foundation, concealer, and eyebrow powder, but there's no contouring, no blush, no mascara, no color whatsoever," said makeup master Tom Pecheux. And that's when the conversation turned to covering up imperfections. Turns out, I've been doing it wrong for years.
Related: How Kate Hudson Gets Glam For the Oscars
The key to coverage that stays put is powder. "When we need to cover spots, we put on foundation, and we powder the area. Then we apply concealer followed by more powder," Pecheux told me. Why all the steps? "A foundation is greasy, and a concealer is greasy, so when you layer them on top of each other, they slip off. The layer of powder in between helps the concealer stick better." If you're like me and your concealer has completely vanished by 3 P.M., and your pimple is glaring at you from the bathroom mirror, try Pecheux's trick. Take it from me. Every single model stomping down the Balmain runway to 50 Cent and Justin Timberlake's "Ayo Technology" (yes, I know, blast from the awesome past!) looked nothing but fresh-faced and flawless.
More from Allure:
Giada De Laurentiis Chats About the Many Uses of Olive Oil
The Secrets Behind Kerry Washington's Scandal Makeup
Add Inches to Your Ponytail With This Simple Trick
Which Beauty Pros Follow on Instagram