The Pros and Cons of Sulfates in Shampoos
What's Your Take on Sulfate-Free Shampoos?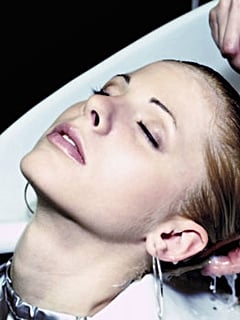 Sulfates (aka sodium laureth sulfate and ammonium laureth sulfate), which are the agents that make our cosmetics lather and suds, are often looked down upon for their tendencies to dry out hair and strip color. Because of that, an increasing number of brands are joining in on the sulfate-free wagon, like L'Oréal Paris.
On the flip side, others complain that they just don't get the lather or clean feeling that shampoos containing sulfates provide, or that they just don't work as well with certain chemical services (like keratin treatments). While Aveda offers up four sulfate-free shampoos, the brand's Pat Peterson admitted to The New York Times, "You can't pinpoint one ingredient that's doing good or bad in your shampoo. It doesn't make sense."
What say you on the topic? Do you find your sulfate-containing shampoos to be perfectly lovely, or are you team sulfate-free all the way?