Is It Psychologically Harmful to Paint Your Son's Toenails?
Is Painting Your Little Boy's Toenails Pink Harmful?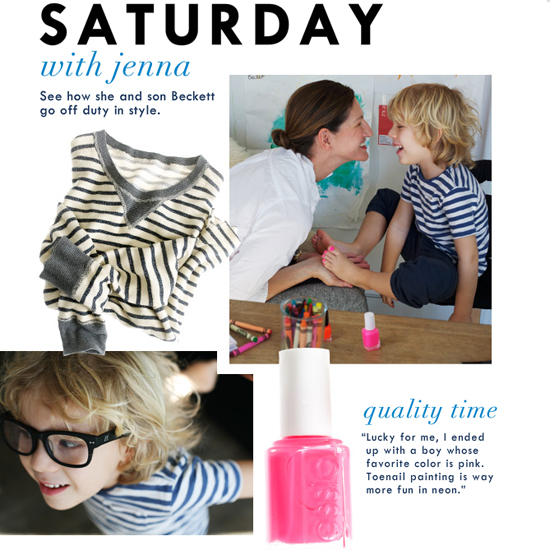 J.Crew President and Creative Director Jenna Lyons included a candid shot of her painting her toddler's toenails in the most recent J. Crew catalog. The only "problem"? Lyons's child is a boy, and some people are doing a lot of pearl clutching about it. To see what the critics are saying, just keep reading.
The Culture and Media Institute is actually calling the photo "Transgendered Child Propaganda," stating that "propaganda pushing the celebration of gender-confused boys wanting to dress and act like girls is a growing trend."
And in an article over at Fox News Health, Dr. Keith Ablow says the photo is "a dramatic example of the way that our culture is being encouraged to abandon all trappings of gender identity—homogenizing males and females when the outcome of such 'psychological sterilization' is not known."
I'm just going to say it: these people's wrongheadedness is appalling. I wish we did live in a society that allowed its children to experiment with color and clothing however they wanted to without being judged. Since when has rigid conformity been a good environment for creativity and innovation? As a girl who got made fun of constantly for loving X-Men and Mad Magazine, I can tell you that the people who thought my preferences were "wrong" didn't go on to wild success and general happiness.
Above all, it's just nail polish. Color, and the application of it, is something humans have loved since prehistoric times. And until recently, men were way more into makeup than women (true story). There's nothing emasculating about letting your son dabble in fun colors. In fact, it lets him know that in the world of play, anything is possible. And that's exactly as it should be.