Quick Beauty Routines
Overslept? Look Great No Matter How Little Time You Have
As POPSUGAR editors, we independently select and write about stuff we love and think you'll like too. POPSUGAR has affiliate and advertising partnerships so we get revenue from sharing this content and from your purchase.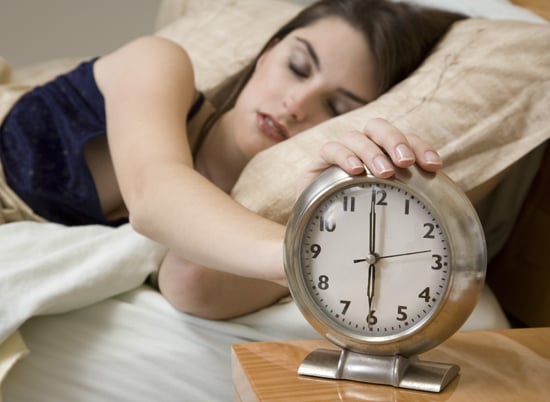 We've all been there: Your alarm wakes you from a deep, peaceful sleep, and you're just not ready to pour yourself out of bed yet. So you hit snooze. And then you hit it again . . . and again. Then you're scrambling to pull a comb through your hair, apply mascara, and get yourself out the door before you're late to work. But just because you have a limited amount of time to get ready doesn't mean you have to rush or completely skimp on your beauty routine. To find out how to look your best, even when the clock is ticking, just keep reading.
If you have 15 minutes: Hit your hair with a good dose of dry shampoo to resuscitate your roots, and then use a curling iron to bring that bedhead you're sporting from limp to lustrous. Use a cream blush, like Laura Mercier Crème Cheek Color ($22), on the apples of your cheeks, swiping it on your lips to give them color. Line your upper lashes, add two coats of mascara, grab your keys, and go catch that bus.
If you have 10 minutes: Braid your hair in two sections and then lay the plaits over your head (a milkmaid braid helps mask a greasy scalp, after all). Next, line your waterline with a white eyeliner, like NYX Slide On Eye Pencil in Pure White ($8), to open your eyes, and then draw a thin coat of black or brown liner along your top lash line. Curl your lashes, throw on a few coats of mascara, and hightail it out of there.
If you have five minutes or less: Run some pomade through your hair before slicking it back into a ponytail, wrapping a piece of hair around the elastic to make it look a bit more polished. Curl your eyelashes — it will make your eyes seem more open and less groggy — and add a swipe of mascara. Run a brightly shaded lipstick over your lips, like YSL Rogue Pur Couture in Le Orange ($32), to give yourself a pop of color. Finish with a spritz of your favorite fragrance as you're running out the door.