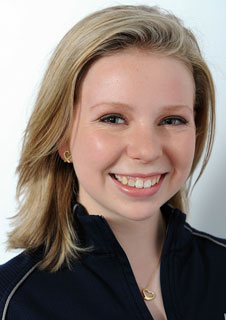 The 2010 Vancouver Winter Olympics are almost upon us, and sports from bobsledding to curling will be all over our TV sets. While she was gearing up for the competition, Rachael Flatt, one of the US figure skating team's stars, let me ask her a couple of questions about hair and makeup on the ice. She had great tips for keeping your hair in place and the eye shadow shades that make your look pop, so to find out what she had to say, just read more.
What eye shadow colors do you use to make your eyes pop for someone seated 30 rows up?
I usually pick eye shadow colors that either accentuate my dress color or complement my eye color. It is hard to find a balance of dark enough makeup that shows up with the TV lighting, but not too much eye makeup so that it does not look like I have black eyes! I like using MAC eye shadows in Shroom (for a highlight under my eyebrows), Sable, Embark, and occasionally Carbon — but only for an accent as an eyeliner. I like to use navy blue colors, like Prussian, as an eye liner because it adds a little bit more color, and it is not overwhelming.
What kind of hair products do you use to keep everything in place when you skate?
Hair spray is a skater's best friend when it comes to competition hair styling. I do use a little bit of hair gel to take care of the wisps of hair that just do not want to cooperate sometimes. I also like to use shampoos and conditioners (especially Pantene) that protect my hair against a lot of wear and tear from hair ties, hair dryers, curling irons, flat irons, and other hair products that I use to style my hair.