"The Rachel" Haircut Still Popular
People Are Still Asking For "The Rachel" 16 Years Later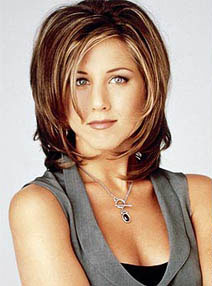 Last night on Glee, we learned that main character Rachel Berry was indeed named after Rachel Green of Friends due to the fact that her two dads were huge fans of the show. And after all these years, it appears that people are still fans of Jennifer Aniston's fashionable character, as British women are still requesting "The Rachel."
The layered shag has been worn by nearly 11 million British women since it first became popular back in 1994. According to a poll by Goody, while "The Rachel" may be the most requested style, Meg Ryan's choppy bob and Dannii Minogue's sleek X Factor bob came in second and third place, respectively. Also popular were Farrah Fawcett's flip, Princess Diana's classic crop, and Victoria Beckham's "Pob" cut.
As far as the famous Rachel cut is concerned, I'm not completely shocked by the findings. We've seen modern variations of the cut going strong for years now. (Think Kate Moss's layered style.) "It's a cut that flatters almost everyone, designed to make women look beautiful," stylist Mark Woolley told the Daily Express. What say you regarding this longtime trend? Have you ever had this bouncy cut or would you consider heading to your stylist for a Rachel update?