Rachel Zoe Interview For Exude Lips 2011-07-29 11:50:12
Rachel Zoe on Creating Her Own Beauty Line: "I'm Sure That I Will"
Rachel Zoe made an appearance at NYC's Plaza Hotel yesterday to show off the new lipsticks from Exude. The stylist teamed up with the company's founders, Diane Breidenbach and Laurence Mille, to promote the products, which have a unique applicator. Instead of a chuck-on lipstick that you gradually apply, Exude has a crystal applicator that releases a small amount with each use. Rachel spoke about Diane and Laurence's innovation and also shared some of her personal beauty preferences. As a new mom to 7-month-old Skyler, Rachel adores organics and loves moisturizer. She also said that her own range of beauty products could someday be a reality. Rachel told us: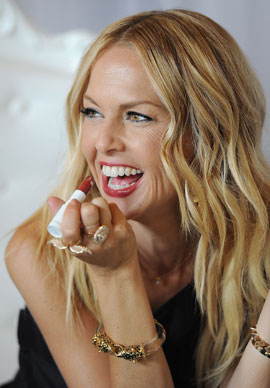 On the importance of moisturizing: "I just think moisture is key in your skin, in your lips, in your eyes. You're never too young to start wearing moisturizer and eye creams. I'm a huge moisture advocate. Everywhere. Just lather yourself with oils before you go to bed. You have to — or you'll regret it later!"
On what comes first, the clothes or the makeup: "I'd almost always wear a major lip with anything. I pretty much do outfit first, but I would say even when I'm in my dressed-down clothes and I'm running and doing errands — I always have a lip on. Always, always, always. I never go anywhere without lips. I just don't. I never have. I have pictures of me when I was 13 with a major lip on. I don't know why, but that's just my thing and I almost feel naked without it."
On beauty trends she doesn't love: "I don't love too much glitter. I think that is a little trendy. I think a little bit of dust that catches the light is kind of fascinating, but when you overdo it, it's not so cute . . . I think beauty is a thing, it's so easy to have fun with, with just colors. Just go outside the box with yourself."
On doing her own makeup line: "We'll see! I'll never say never to anything ever again because I said never to half the things that I'm doing now. So now I'm just not going to make myself look like an idiot and say — maybe! You know it would be a logical thing for me to do. Because I honestly love it and it's part of the whole process of getting dressed, and nothing fascinates me more than the complete look . . . the answer is, I'm sure that I will. I'm going to feel like I really have to, because I want to."
Keep reading to hear about how Rachel got involved with Exude, the colors she loves most, and the other products she loves.
On getting involved with Exude: "[Diane and Laurence] approached me with this product and the technology behind it, and I was very intrigued because I've been obsessed with lipstick since I was 10. I mean, I can't remember not wearing lipstick ever. Any time there's something new in something that I have so much of, I'm like OK — I want to hear about it, I want to know about it. So we all sat at this meeting and they presented the actual technology of it and why it was so amazing. I was skeptical, and then I was like, 'Oh my God, it's kind of amazing' . . . I road-tested the product for a while. My whole team — I have 16 or 17 women in my office now, and every single one of them tried the lipstick. We all just loved the product. It was an incredible thing to be a part of. And then I got really involved in the packaging and stuff like that. It was great. I had a lot of fun doing it. I wear it, literally, like crazy."
On the Exude color she loves best: "I'm partial to the cranberry and the plum, and I'm really into the scarlet red. But I think right now, in the dead of Summer, I'm going to start playing with coral, and the nudes, and the browns. I honestly love them all. But I will say the cranberry is the one that never leaves my bag. Because you can apply it heavy or you can apply it very lightly."
On what's unique about Exude: "The way it rolls up, rolls down, there's no wasted product. It's not messy. You can't get germs or bacteria in it. It can't leak everywhere. I love the texture because I'm a freak about dry lips so I wanted something very moist but not too lacquer-y."
On products she loves: "Egyptian Magic is really a life-saver for me. In pregnancy, before pregnancy, during pregnancy, after pregnancy. I use a lot of California Baby products because they're all organic. I've been using organic for the last year, obviously."