ReBloom Beauty Sleep Drink Review
Drinking Your Beauty Sleep Works, Is Expensive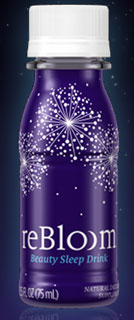 Remember a couple years back, when it seemed like every beauty company was coming out with some kind of nutraceutical beverage designed to make your skin look great while you hydrated? Well, although the craze for them has died down, there are still plenty of new ones coming out.
Recently, I was sent ReBloom ($28), a "beauty sleep drink" that promises to deliver better, beautifying sleep without drugs or preservatives. It costs nearly $30 for a one-week supply, or about $1,500 a year if you drink one every night as directed. Fortunately for the drink's makers, the stuff really does work; this Bella slept better and woke up noticeably more refreshed every time I knocked one back before bed.
Oh, but there's a catch. To see what it is, keep reading.
This isn't our first time around ye olde beauty block, so we checked the ingredients. Turns out ReBloom's major components are valerian and melatonin, both long known to relax and help regulate sleep cycles — and both inexpensive. ReBloom also contains green tea amino acids, which may be good for resisting free radical damage, but it's hard to say whether that justifies the price tag. If it was five or even 10 bucks a pack, we'd be writing a full-blown rave review. So if you've got money to spare and you want some all-natural sleep help, you may like ReBloom. But penny pinchers may be better off just buying the same thing in supplement form at the health food store.