Reader Review of the Day: Bliss Daily Detoxifying Facial Toner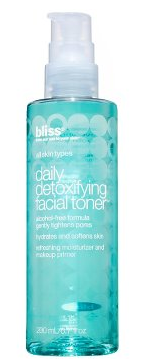 I'm in the market for a new toner, so what better place to find advice than from Bella readers on the Product Reviews website? Here's what marleygyal02 had to say about her not-so-great experience with Bliss Daily Detoxifying Facial Toner ($21):
[It's got a] really refreshing smell, which is why I picked it up in the first place. But, it doesn't really do anything and it leaves a slight film on the skin. The film goes away, but I still feel there are way better toners out there.
Have you been disappointed with your choice of toner, or perhaps you've got a favorite skin refresher you'd like to tell us all about. Whatever the case, just hit up our Product Reviews website and type away. We love to hear your opinions.