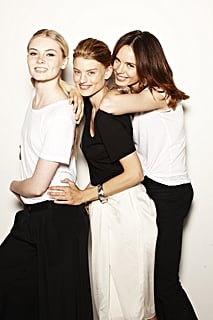 Trends come and go, but the T shirt has been and will forever remain, one of the most essential items in a woman's wardrobe. Dress it up or dress it down, it can be both a canvas for a style statement or stand entirely on its own. That's why Mary-Kate Olsen and Ashley Olsen have launched StyleMint, a members- only site that offers amazing T shirts hand-selected to match your signature style, for the wonderfully affordable price of $29.99. Each piece is impeccably designed with special attention placed on fit, fabric and style.
How it works is simple. Go to StyleMint.com and when you first sign up you'll take a super- easy (and actually very fun) style quiz. Once you're registered, you'll get month T shirt suggestions, picked just for you, delivered directly to your inbox. Best part about it? Each T is just $29.99, every month without fail. And if you don't like the T they choose for you, that's OK! Because there's never an obligation to purchase. So whether you're looking for a classic, modern, day, evening, or everything-in-between T, the versatility of StyleMint products, coupled with their knack for nailing your personal style, will leave you anxiously awaiting their next email.
Get started today and receive 10% off your first item by using promo code: STL10.