It's usually wise to stay away from sweeping generalizations, but it's pretty safe to say that red lipstick will never go out of style. From dark brick to candy apple, red lipstick has been a staple in makeup kits since the beginning of beauty time (whenever that was). On lips, this fiery hue conveys both sophistication and fearlessness. You'll find numerous shades for different skin tones, every occasion, and complementary eye-makeup ideas when you peruse this celebrity-inspired guide.
Zoe Saldana
Zoe Saldana [1] took a modern approach to a vintage visage at the UK premiere of Star Trek Into Darkness, wearing a ruddy red hue swept across her eyes.
Stacy Keibler
Stacy Keibler dressed her tousled updo up with a red lipstick hue at the Heineken Star Bottle event.
Joan Smalls
Model Joan Smalls attended the Chanel Tribeca Film Festival Artists Dinner with a smooth, center-parted blowout and bright red lips.
Poppy Delevingne
Poppy Delevingne attended the Calzedonia Summer Show sporting a bedhead look paired with bold red lips. The effect was polished yet cool.
Sienna Miller
Sienna Miller [2] arrived at the opening of Broadway's Orphans donning eye-grazing bangs and bold red lips.
Kate Bosworth
At a screening of Black Rock, Kate Bosworth [3] went with a sleek, low ponytail coupled with a bold, red-orange lip.
Winona Ryder
Winona Ryder [4] stunned at a special screening for Disconnect in New York City. Her milky complexion was flawless, and she enhanced the look with red lips, defined brows, and shiny brunette hair.
Miley Cyrus
Miley Cyrus [5] capitalized on her short hair to do rock-and-roll spikes at the Met Gala, but her glossy red lip color added a touch of class.
Miranda Kerr
This oxblood-red lip color on Miranda Kerr [6] brought a dramatic flair to her Met Gala look.
Jennifer Lawrence
Looking like a vision from right off the Dior runway, Jennifer Lawrence [7] wore a cage veil and crimson lipstick on the Met Gala red carpet.
Rosie Huntington-Whiteley
Gold eye shadow, a cherry lip stain, and slicked-back sides made up Rosie Huntington-Whiteley's Met Gala look.
Gwen Stefani
No red lipstick roundup would be complete without Gwen Stefani [8]. The singer wore a twisted updo and her signature bold lip to the 2013 Met Gala.
Elizabeth Olsen
While attending Chanel's The Little Black Jacket dinner in Milan, Elizabeth Olsen wore her copper-tinged hair, bright red lips, and glowing skin.
Olivia Munn
Looking polished, Olivia Munn arrived at the Oscars with sideswept bangs and a red lip.
Jessica Chastain
Jessica Chastain pulled out the bombshell hair and makeup with brushed-out waves and classic red lips at the 2013 Oscars.
Rita Ora
Rita Ora wore her blond bob whisked back, matching her bright poppy ensemble with a deep red lip color.
Chrissy Teigen
At the Vanity Fair Oscar party, model Chrissy Teigen accented a subtle smoky eye with a bold red lipstick.
Vanessa Hudgens
At the Vanity Fair Oscars party, Vanessa Hudgens [9] took a note from the vintage trend currently sweeping red carpets everywhere, coupling retro waves with a classic bold lip.
Rashida Jones
Rashida Jones looked resplendent in a bright, reddish-pink lip at the Vanity Fair Oscars party.
Lily Collins
Lily Collins went for a classic yet edgy style with a bold, red-orange lipstick and mussed-up waves at the Producers Guild Awards.
Solange Knowles
The combination of flaming lipstick and a golden dress at the Vanity Fair Oscars afterparty set Solange Knowles's look apart from the rest.
Amanda Seyfried
Look to steal: Amanda Seyfried [10]'s vibrant, poppy-hued lipstick from the Lovelace premiere.
Charlize Theron
A daring, vampy-red lip further enhanced Charlize Theron [11]'s sexy style at the Cinema For Peace gala.
Janelle Monáe
At the Grammys, Janelle Monáe's signature red lip look was achieved with a mix of CoverGirl's LipPerfection LipLiner in Passion topped off with the Brand's LipPerfection Lipcolor in Hot.
Alexa Chung
Indie darling Alexa Chung looked simply sweet at the Grammys in a custom-blended bright red lip.
Rihanna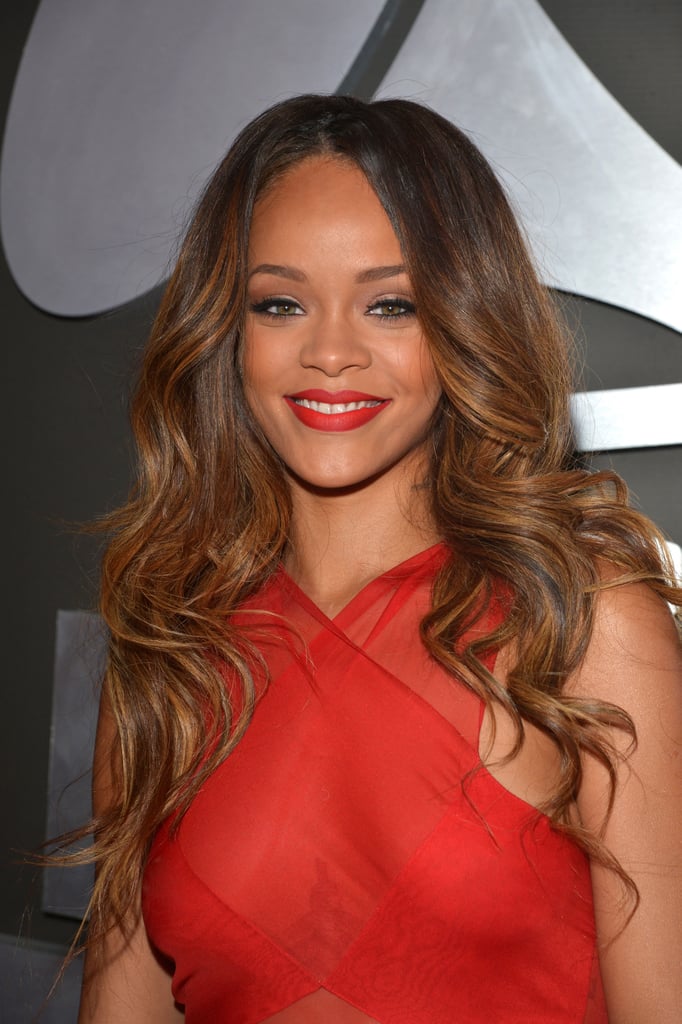 Ever the chameleon, Rihanna [12] matched her sheer crimson gown with a matte red lip hue at the Grammys.
Beyoncé
A stick-straight ponytail and bright red lips made for a sophisticated style on Beyoncé at the Grammys.
Alicia Keys
With her auburn lip and impeccably styled updo, Alicia Keys [13] had the chic factor down to a science at the Grammys.
Thandie Newton
At the British Academy Film Awards, kinky curls and red lipstick were all Thandie Newton [14] needed to take the red carpet by storm.
Marion Cotillard
Marion Cotillard set off her classic tomato-red lipstick with a neon yellow gown at the BAFTAs.
Tyra Banks
At Clive Davis's Grammys Pre-Party, Tyra Bangs wore a scarlet lip color that balanced out her blunt blond fringe.
January Jones
At the SAG Awards, January Jones [15] delivered the most striking look of the evening. A true-red lip — using Chanel Luminous Intense Lip Colour in Incandescente — and her pompadour coiffure added just the right amount of avant-garde coolness.
Naomi Watts
Going for an Old Hollywood beauty look at the SAG Awards, Naomi Watts [16] paired her ruby-red lip with cascading waves.
Julia Stiles
Julia Stiles looked divine in her bright, red-orange lip color and fully rimmed eyeliner at the SAG Awards.
Eve
Burgundy hair and candy-apple-red lipstick? Somehow it worked for Eve at the Nicole Miller runway show.
Dita Von Teese
Dita Von Teese [17] is the epitome of retro glamour, so of course a high-shine red lipstick is one of her makeup essentials.
Jill Scott
Jill Scott paired her satiny top with a rust lip color and off-center updo.
Chloë Sevigny
At the A&E upfront, Chloë Sevigny [18] turned up the heat with a bright, red-orange lip hue.
Olivia Culpo
Beauty queen Olivia Culpo wore a pink-undertoned red lip to really make her white smile shine.
Christina Hendricks
Christina Hendricks gave a prime example on why redheads should wear more red lipstick at the BAFTAs.
Jamie Chung
At the InStyle Golden Globe party, Jamie Chung's carmine lip color was the lone pop of color next to her nearly all-gold color scheme.
Ashley Madekwe
You can never go wrong with sideswept waves and crimson lipstick, as seen on Ashley Madekwe at a Dukes of Melrose launch party.
Julianne Hough
At GQ's Men of the Year party, Julianne Hough coupled an intense red lip color with high-octane blush.
Diane Kruger
Diane Kruger [19] wore a soft vermillion lip to the GQ Men of the Year party, a gorgeous pairing to her chic yet casual style.
Alice Eve
All blond-haired, blue-eyed ladies should take a note from Alice Eve's style book. Her fiery lip color at the Elle Style Awards added a brightening effect to both her hair and her eyes.
Angela Simmons
At the Skyy Moscato Launch, Angela Simmons wore a glossy red lip color that was high on shine.
Emmy Rossum
While some may shy away from white clothing with red lipstick, Emmy Rossum proved to be daring at the Saving Tails gala.
Rachel Nichols
At the Raze premiere, Rachel Nichols wore a fire-engine-red hue on lips that set off her fair complexion.
Giuliana Rancic
On medium skin tones, like Giuliana Rancic's, a brick lip color creates a flattering finish.
Olivia Palermo
Olivia Palermo's cat eyeliner and ruby lipstick made for a timeless combination at a Rochas event.