Remembering Eunice Johnson
Remembering Eunice Johnson, Fashion Fair Founder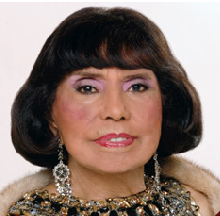 This weekend, we found out about the passing of Eunice Johnson. While hers might not be a household name, her endeavors certainly are. It's hard to know where to begin describing her many accomplishments.
Born in 1916, she was a driven and motivated woman who helped shape popular culture for decades. After earning a degree in sociology from Talladega College, she received a master's degree in social work at Loyola University; it was in Chicago that she married John H. Johnson, with whom she founded Ebony in 1942. As one of the oldest and largest magazines for an African-American audience, it paved the way for her to create the Ebony Fashion Fair in 1958. The traveling runway show, which hits hundreds of cities each year, has helped launch the careers of models like Pat Cleveland and actors like Richard Roundtree.
It was through the Ebony Fashion Fair that Johnson got her next idea. After cosmetics companies showed little response to her requests for makeup that would fit darker skin tones, Johnson founded Fashion Fair Cosmetics in 1973. The first department-store line for Black women, its success prompted Avon and Revlon to launch their own lines for women of color. To this day, Fashion Fair remains the largest Black-owned cosmetics company in the world. Eunice Johnson was 93; her daughter Linda Johnson Rice now serves as CEO of Johnson Publishing, which continues to publish Ebony and its sister publication, Jet.