Renee Rouleau Anti-Cyst Treatment Review: Does It Work on Acne?
Can This Treatment Stop Runaway Cystic Acne? Let's Find Out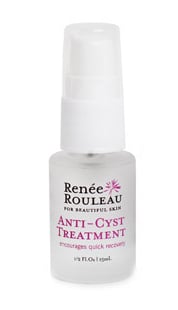 Cyst happens. Unfortunately for me, it happens at least twice a month: Seemingly overnight, a patch of formerly clear skin will erupt into a deep, painful, under-the-skin acne nodule that sticks around for weeks or months. It is as wonderful as you'd imagine. Some women experience this kind of acne with their menstrual cycle while others are genetically predisposed to developing it, but anyone who's experienced it knows how hard it is to battle. Benzoyl peroxide and salicylic acid haven't worked on my cysts, and short of getting a cortisone injection for acne or trying Accutane (which I'm not into), nothing has worked. Reader, tears have been shed.
This is why, with equal parts skepticism and hope, I tried Renée Rouleau's Anti-Cyst Treatment ($38.50). Specifically designed to combat this kind of acne, it promises to reduce the size of a cyst and speed healing time. Did it work? Find out after the jump.
So here's the thing about our skin care reviews: If we're writing about a product, we've used it for at least three weeks. We do this because most skin care products don't work overnight, and if we're going to tell you about something, we have to actually know whether it does what it says it will do. With all of that said, I've applied Anti-Cyst Treatment once or twice a day, every day, for the last three weeks.
The treatment is a thin serum that's meant to go on a cyst not your entire face. Lucky me, I've had one on my neck since early June, and another erupted on my chin two weeks ago. So sexy! Anyway, after cleansing, I used a Q-tip to apply a small amount on each cyst and continued with my usual skin care regimen. (Especially if you're acne prone like yours truly, don't use your fingers to apply topical treatments; your filthy mitts will put bacteria all over the place.)
Did I see results overnight? Nope, but two days later, I did. The first thing I noticed was that the swelling had gone down significantly. If you've had this kind of acne, you know that cysts can be incredibly painful to the touch. After a few applications of the treatment, mine weren't as red, and they were far less tender. Within a week, the cysts were smaller in depth and diameter. I also used the treatment on burgeoning baby cysts, and they didn't develop into big ones.The chin and neck cysts are still ever-so-slightly present, but they're practically invisible at this point. More importantly, nothing had affected their size beforehand.
Overall, if nothing else has worked for your cystic acne, I recommend buying this. No, it's not cheap, but I can tell that it'll last a long time. It's literally the only over-the-counter product that has affected my cysts at all. Use it only on closed blemishes (but you already know not to mess with a cyst, right? Right?) and start using it nightly. And then let me know if you have similar results — or if any other cyst-fighting treatment has worked for you.