Reverse French Manicure Nail Art Idea
Get These Cute Southwest-Inspired Nails the Easy Way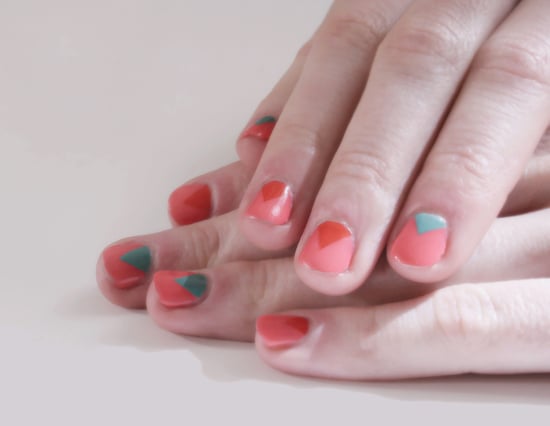 The vivid colors and patterns of the American Southwest are popping up all over accessories for Spring, but you don't have to visit Mesa to work the motif into your wardrobe. This easy "flying v" manicure has plenty of Southwest flavor, and all you need to make it work are three nail polishes and some tape. Ready to hit the trail? Then find out how to do it.
First of all, find a good base like this bright pink, the appropriately named OPI Guy Meets Gal-Veston. Once your base color is completely dry and set, it's time for tape. Take two small pieces of regular scotch tape and cross them over one another so that there's a small, v-shaped open space where the "half moon" at the top of your nail is.
Now it's time for your decoration. We used two thin coats of our accent polishes, MAC Salad Dressed and MAC Kid Orange, and let them dry for a couple of minutes before peeling the tape off. Remove the tape before the accent polishes are completely dry, so that bits of the "v" don't come off along with it. After that, just let your polish dry all the way, slap on some topcoat, and you're good to go.