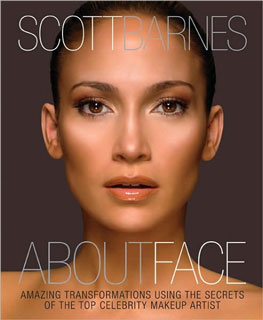 Scott Barnes is known for giving Jennifer Lopez her distinctive look, and he's worked with just about every celebrity you can imagine (read my interview with him here). He's particularly known for his incredible ability to make skin luminous and seemingly perfect, so I was pretty excited when I heard he was publishing his own book, About Face ($18). To find out whether the book lived up to expectations, just read more/
About Face is predominantly concerned with technique. Scott details his methods and transforms women from different age groups and with a wide variety of skin tones. However, if you don't know what shade "wine" is or how to use a few makeup brushes, you might want to study up before you dive in. This is a professional-quality book, and it doesn't hold your hand — I found myself looking up a few things as I read. The Googling is worth it, though, and I came away with a bevy of routine-changing tips.
Scott's system for contouring is also amazing and well worth reading about; you'll learn things about makeup colors that will blow your mind. The photos are also gorgeous, and it's the sort of book that's nice to have on the shelf for guests to flip through. There's also at least one look for almost every woman in here, so unlike many makeup books, you're not likely to take a peek inside and see no one who looks like you. Overall, this comes highly recommended if you love new application techniques and are a total junkie. If you're more a minor makeup dilettante, you might have some trouble parsing it (although you'll still pick up a lot of tips). And if you have no interest in makeup whatsoever, then I kind of wonder why you're reading this site, let alone thinking about reading this book.