Review of Argonne RE9 Advanced Regenerating Toner
This Citrusy Toner Will Brighten, Tighten, and Lift the Spirits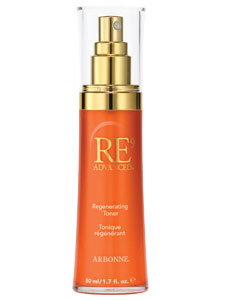 After discovering more than two gray hairs near my temples, lately, I've been paying a bit more attention to antiaging skin care. Arbonne's RE9 Advanced line, which consists of 11 products, is paraben-free and supposedly, you'll see results in 24 hours. I tried a few products out from the packaged-in-orange line, so to find out more about which item I liked most, just keep reading.
Speaking of orange, that's exactly the type of light scent you get from the brand's Regenerating Toner ($35). With antioxidants like vitamins A, C, and E, along with algae extract to help give the skin smoothness, the mist-on toner felt refreshing and tingly on the face, but not sticky to the touch (like some other toners I've tried). I used it mainly to refresh my makeup and provide a light glow midafternoon, but it could be used in a variety of other ways.
I wouldn't say this toner performed major miracles to my skin, but it did provide a nice plumping and evening effect. So if you're looking for a little pick-me-up, along with a touch of luxury throughout the day, the Regenerating Toner could just be the way for you to get it.