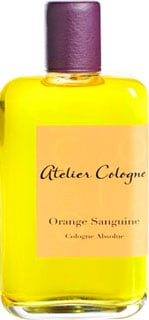 Few scents actually make you want to smile, but recently, I sniffed one of those rare happiness-inducing scents. Atelier Cologne's Orange Sanguine ($145) might be pricey, but it's definitely irresistible.
The juice opens up smelling exactly like a big, cold glass of fresh-squeezed orange juice. Then, as the scent progresses, it takes on the tart scent of orange peel with a hint of creamy jasmine that should be pleasing to anyone who loves flower-tinged gourmand scents. It dies down to a soft citrus-floral with a light tinge of incense throughout.
I highly recommend this fragrance, as it sits closely to the skin (no one but you will be able to smell it). It's also ageless and eminently wearable, whether you're headed for the office or out at night. Everyone needs a little pick-me-up here and there, and Orange Sanguine might just be the way for you to go about getting it.