Review of Aveda Control Force Firm Hold Hairspray
Found: A Superhold Hairspray Without the Crunch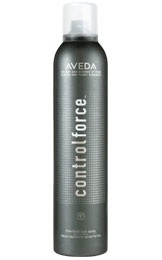 If you like a firm-hold hairspray but don't like the crunch that often accompanies it, I think I might have the perfect product for you. If you also like big hair, voluminous ponytails, and sprays that won't knock out the person next to you on the bus due to the overwhelming fake aroma, you should also listen up. Aveda's new Control Force Firm Hold Hairspray ($26) packs a punch, because when they say force, they're not lying. The spray, which goes on full-blast, smells soft and powdery, containing notes of bergamot, vetiver, palmarosa, and lavender.
While I wish the product gave the hair a little more shine, it has a nonsticky finish and sets pretty much instantly. So far I've found that spritzing the Control Force on the ends of my short strands produces a nice wispy texture that stays put. I've also discovered that in lieu of breaking out the hair dryer in the morning, some Control Force sprayed all over my damp strands results in a pretty, nonfrizzy finish about an hour later when I arrive at work.
While I wish the price was a little bit more affordable, at least a little goes a long way with this product. Also, if you're wondering why a company that's known for environmental causes has not just one, but two aerosol hairsprays, the brand promises these products have a net-zero climate impact. What about you? Do you have a favorite heavy-duty spray?