Review of Bare Escentuals BareVitamins Prime Time Foundation Primer
Prime Time: Testing Bare Escentuals' Foundation Primer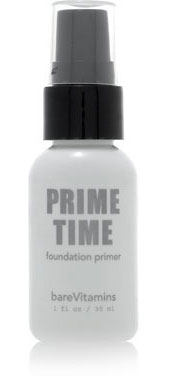 So far, in my Prime Time series, I haven't met a primer I didn't like. Today, let's look at Bare Escentuals' BareVitamins Prime Time Foundation Primer ($21).
Prime Time is your standard evens-out-the-skin kind of formula, but what makes it different from the rest is that it's free from silicone, oil, or fragrance. Designed to be worn under Bare Escentals' ever-popular mineral foundation, I used it under liquid foundation and concealer, and had no problems with texture or pilling. Find out how it worked when you read more.
After testing it out every day for nearly a week, I found that by 5:00, my makeup still looked pretty decent. Now, I'm not saying it looked fresh and dewy, but it also didn't look oily, blotchy, or uneven either — problems that I often encounter sans primer. If you have dry skin or are looking for a primer with a bit more emollience, you might want to look elsewhere. But, if you love a matte finish, along with a formula that doesn't smell or contain silicone, Prime Time is worth a try.