Review of Benefit's I'm Glam . . . Therefore I Am Holiday Palette
What We're Sweet On: A Purse-Sized Holiday Makeup Palette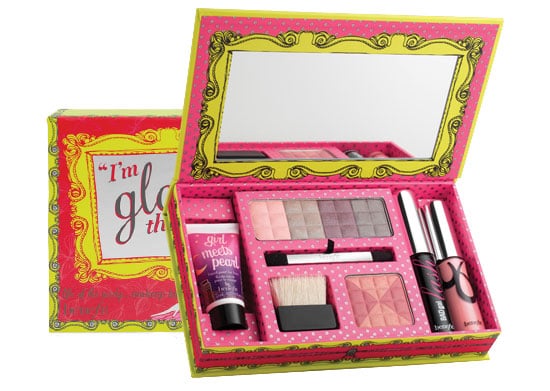 If high-glitter and high-pigment makeup aren't quite your thing for the holidays, Benefit Cosmetics' I'm Glam . . . Therefore I Am ($36) is a great option for you, then. The seven-piece kit contains the universally flattering rosy- and peachy-pink Glamming Face Powder, along with the brand's always-crowd-pleasing highlighter, Girl Meets Pearl.
A four-piece eye shadow palette of pale pink, icy purple, muted plum, and steely gray allows you to create looks ranging from just a kiss of color to something a little more mod to something more alluring and smoky. Bubble-gum pink gloss and mini BadGal mascara top it all off, but will also serve you well while you travel throughout the year. These teeny-tiny products can be easily tossed in your one-gallon clear plastic bag, without the TSA having to step in and confiscate them from you.
And while the palette is too big to fit into a small bag, it's still bitty enough to hold in a medium-sized purse or clutch — one that's sequined for all your upcoming festivities, of course.