Review of Benefit the POREfessional
Prime Time: Benefit the POREfessional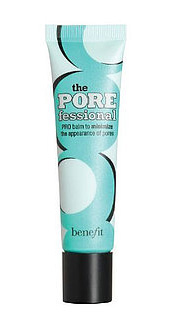 In the final installment of my prime time series, here's a look at Benefit's the POREfessional ($28), a recently-released balm that's supposed to minimize the appearance of pores. But for all intents and purposes, it's a primer. Unlike the brand's That Gal ($28), which is luminescent and pink, this primer is matte and beige in color.
Right away, I was concerned about the chemically floral notes I got from the creamy gel. Also, getting used to that slippery feel silicone-based primers possess, is always a challenge. However, within seconds, the scent dissipated, and the oil-free product dried almost instantly into something smooth and translucent. As a test, I applied the POREfessional to just one side of my face in the morning. At the end of the day, I asked colleagues which side looked better. While it was unanimous that the primed side looked more even and fresh, it did wear a bit dry by end of day. Find out more when you keep reading.
I like that the POREfessional can be worn under or over makeup (as a touchup) and that it can even be worn alone as a super-light foundation since it subtly veils over flaws. As for what it's supposed to do, yes, it does "fill in" small pores or fine lines, but for deep crevices and pores, I'd get thee to a dermatologist for advice. And when it comes to skin type, if you skew on the oily side, this primer could be perfect for you.