Review of Conair Mini Curling Iron and Flat Iron
We Found Cute, Affordable, Tiny Hair Tools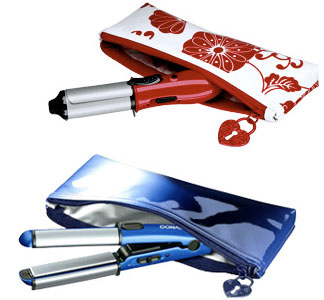 When it comes to beauty products, mini anything always seems to be a crowd-pleaser. And while not every single person can benefit from Conair's MiniPro 1" Ceramic Curling Iron ($18) and MiniPro You Style 2-in-1 Ceramic Styler ($21), these diminutive styling tools can come in handy. Plus, they're just plain cute. Find out the pros and cons of these no-frills products when you read more.
The pros:
Got short hair? Due to their tiny size, these mini styling tools are very easy to maneuver around short-to-medium hairstyles. They're also perfect for taming hard-to-control face-framing strands, regardless of overall length.
Got fine hair? The heating mechanism comes in only one setting, which never reaches scalding hot territory, which is great for those with finer, delicate strands. Ahem, or for the accident-prone. Who, me?
Easy touch-ups: If all you're looking for is a simple after-work touchup, I recommend keeping the the 2-in-1 Styler at your desk, as it multitasks to either curl or straighten in just a few minutes.
More room: In order to avoid checking bags when I travel, I squeeze just about everything I can into my carry-on. These minis clear up valuable space. Plus, if you're in a hurry and don't have time to allow the irons to cool off, the accompanying thermal pouches are designed to take the heat.
Who they might not work for:
The very thick-, long-, or curly-haired: With just one heat setting, these minis are perhaps a bit too weak for you to get amazing results. I'm not saying you couldn't, but you'd have to be quite practiced in the art of patience, as time would need to be on your side.