Review of The Cool Fix by Shaveworks
From Scruffy Beard to Bikini Line: We Test a Unisex Aftershave Gel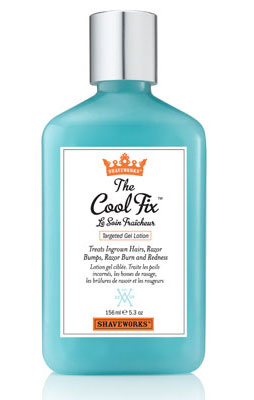 Whether you're a man or woman, at one point or another you've undoubtedly experienced some sort of shave-related discomfort. Shaveworks's unisex product, The Cool Fix ($11-$25), is an all-in-one gel lotion that hopes to free you from your shaving troubles. But can an aftershave product treat both razor burn and prevent ingrown hairs on two very different subjects of the opposite gender?
I called in Mr. Bella to find out. A hairy man he is, Mr. B's five o'clock shadow usually rolls in more around 10 o'clock . . . in the morning. As for me, I'm a light-skinned lady with dark brown hair, which can turn out to be a bikini-line nightmare. So to find out how we fared with The Cool Fix, just keep reading.
What she says:
Just to be sure it was working like it said it would, I only applied The Cool Fix to the right side of my bikini line as a way to compare the effects. This lotion/gel, which smells kind of like soft peppermint and beach combined (that's a good thing), glided on very smoothly and evenly. Shockingly, it didn't even sting or burn upon contact. Instead, I got a nice cooling sensation without an oily or sticky residue. I tend to get tiny bumps and redness in this location, and after two days of usage, the irritation was a lot less noticeable. I would definitely use this product again.
What he says:
It goes on smoothly and feels cool on the skin. It's pleasant with no burn. As for the smell, it's clean and not overly perfumey — which is nice. It didn't blow my mind, but it felt good on the face. I would use it again just because of that.