Review of Coppertone MyUVAlert App
iPhone App of the Week: Coppertone MyUVAlert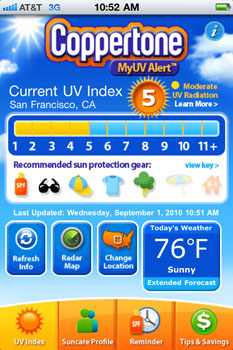 If you take your sun protection seriously, here's just the app for you: Coppertone MyUVAlert. Even if you're not quite as diligent about SPF, you'll at least take away some sage advice from this application.
Just type in your zip code, or the zip of any other US city, and you'll get the current UV index, along with advice on what to do to protect yourself based on the reading. You can then customize by activity levels to receive product recommendations (Coppertone, of course). You can even set a timer to remind you to reapply your SPF at regular intervals. FYI: Every two hours or so is the standard.
There's even a tips section chock-full of helpful words of SPF wisdom, and a link to the Weather Channel website. Will this app blow your mind? No, but I could see it coming in handy at the store or while on vacation. And since it's free, and you get a $1 off coupon just for downloading, it's worth a few minutes of your time to check out.