Review of CoverGirl Simply Ageless Primer
Prime Time: CoverGirl & Olay Simply Ageless Primer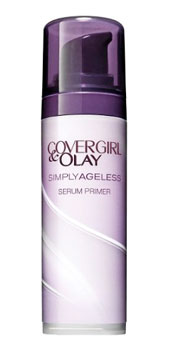 As mentioned before throughout the Prime Time series, most primers possess that telltale gel-like, slippery feel. And while it's rare to find a primer that's creamy, CoverGirl & Olay's Simply Ageless Serum Primer ($14) stands out from the rest for that very reason.
Touted as an antiaging moisturizer and foundation primer, this dual-branded prepper is perfect for those who love multitasking products. Its texture and look is similar to a white facial sunscreen, with a bit more of a satiny, rich feel. Because of this, the Serum Primer doesn't sit atop of the skin like many other primers, but soaks in. A little amount will also go a long way, taking some of the sting out of a $14 price tag. To find out the rest of the review, just keep reading.
Unlike other primers, which dry matte, the Serum Primer has a bit more emollience and weight to it. While my foundation blended very well over it, it's a little heavy and slightly tacky for my oilier skin. (I often skip moisturizer because of my skin type.) But if you have dry skin, are concerned about fine lines and wrinkles, and love a good combo product, the Serum Primer might just be smooth sailing for you.