Review of DKNY Delicious Candy Apples
DKNY Delicious Candy Apples: Do They Satisfy My Sweet Tooth?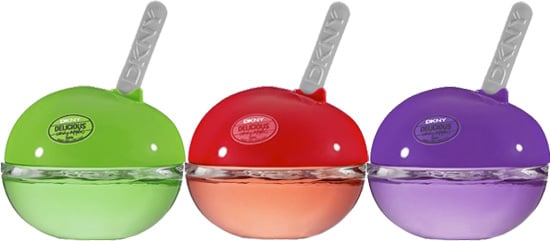 I was a big fan of DKNY Be Delicious when it first came out. Everything about it appealed to me: the adorable packaging, the crisp, sweet, totally recognizable scent, even the pretty, cider-ish color of the juice. So I was pretty excited to see the new Delicious flankers, the Candy Apples ($55). True to form, the three new scents have incredibly cute, clever packaging and tantalizingly colored juice. But of the three, only one is worth taking a big bite. To find out why, just keep reading.
Ripe Raspberry (red bottle)
This is the one that some people are really going to love, because it's a scent that stands on its own and has a pretty unique imprint. I wouldn't say it smells like the raspberry it purports to be, but it's definitely tangy and fruity. It opens up with a cola note that smells just like those Haribo Fizzy Cola sour gummy candies, then becomes a very tart scent, like unsweetened white grapefruit, and gets fruitier as it dries down, finally losing its sharp edge and settling to a very light, sort of berry citrus scent that stays on for a long time and has some body but isn't going to be noticeable to anyone but you. I can see this one being a good Summer scent, because it won't radiate off you on hot days, and the citrus makes it a little beachy.
Sweet Caramel (green bottle)
This one dried down to smell almost exactly like regular Delicious, so if you're a fan who's not much for opening notes, it might be worth a try. It stays a lot closer to your skin than regular Delicious, so if you like the original but don't like wafting scent around after you, this one is also a good choice. If you love smelling your perfume from beginning to end, though, or really love your opening notes, I'd say avoid. Why? Because although the initial burst of caramel is lovely and the drydown's good too, there's a very strange transition point at about minute two that just kind of smells like sharp "perfume" chemicals to me. It didn't last very long, but it was enough to put me off.
Juicy Berry (purple bottle)
If you slathered on some Bath and Body Works blackberry body lotion, then sprayed some original Delicious over it, you would get this exact scent. It was just as if someone took the regular perfume and diluted it with a cheaper synthetic ester instead of blending a new accord. I wasn't a fan. Your 15-year-old cousin, though, might love it — it smells very young, and teenagers are more favorably inclined to synthetic scents than adults are.