Review of Dior Capture Totale One Essential
In Which Our Friend Tries a $95 Dior Serum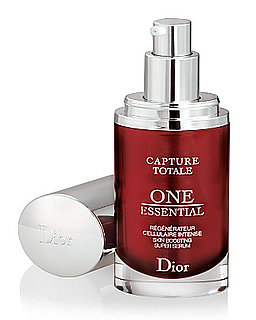 Here at Sugar HQ, our co-worker Stacia has been a brave volunteer for a lot of different products. Most recently, we asked her to try Dior Capture Totale One Essential Serum ($95) and tell us whether it actually does what it's supposed to. It's been a few weeks, and now she's reported back on her findings. To see what she had to say, just keep reading.
"I have very sensitive skin, which is why I'm very limited as to what I can use on my face," Stacia said. "I was especially excited to use Dior Capture Totale One Essential for the first time, because it's Winter and my skin is dehydrated and dull looking. After using this serum twice a day (morning and night) for two weeks, my skin's appearance looked brighter, dewy and fresh looking. I even got stopped by one of my coworkers who commented on how great my skin looked. A little product goes a long way, so you only need to use one pump per application. I liked the smell and the overall feel of the serum when applied to my skin. It's light, yet penetrates the skin for several hours. I really liked how I could layer other skin products and makeup over the serum without feeling any build up. I love reaching for this product in my medicine cabinet every morning, as it's like dessert for my skin!"
Dior provided Stacia's sample, so I wanted to know if she would splurge on the $95 serum with her own money.
"$95 is a lot," she acknowledged. "But I'd buy it with my own money. I wouldn't, though, unless I had a sample to ensure that it worked for me — that's what I usually do before investing in skin care. A little bit of the Dior serum goes a long way, so maybe I would only use this seasonally. I would splurge for the Winter time since that is when I would need a serum like this the most."
So there you have it. Want to know whether the pricey item you're eyeing is worth it? Just pop on over to our Product Reviews pages, then, where there are over 50,000 products up for review.