Review of Do It Gorgeously by Sophie Uliano
Bella Book: Do It Gorgeously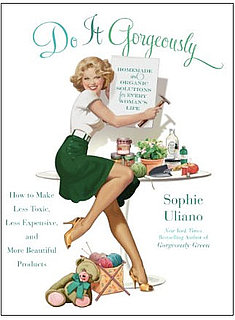 Ever wanted to make your own beauty products? Thanks to tips from environmentalist Sophie Uliano, you can do it with green aplomb. In her new book, Do It Gorgeously: How to Make Less Toxic, Less Expensive, and More Beautiful Products ($14), she declares that "clueless is out and crafty is in."
Beauty lovers will be most interested in chapter one, "Do It Beautifully," which covers how you can select ingredients to make your own skin care, sunscreen, nail products, deodorant, and even toothpaste. For oily or combination skin, make your own aloe toner by mixing up 12 ounces of pure organic aloe vera juice and two ounces distilled water. It can be as easy as that. There are also tutorials on how to do your own facials and make your own remedies, such as acne gel and hand sanitizer. Find out more about the book when you keep reading.
At nearly 400 pages, Sophie packs in a lot of information, including ideas for taking care of your car, your pets, and even your mind. You can also learn how to make your own yoga pants out of an old t-shirt. This DIY book provides a great way to get started on making changes in the way of being more environmentally aware and responsible with your money and resources. It would also make a cute gift for a loved one who's crafty at heart, and thanks to all the creative recipes contained within, it would also provide lots of great ideas for inexpensive gifts to give.