Review of Elizabeth Arden Sunscreen Stick
Found: A Sunscreen Stick That Won't Break You Out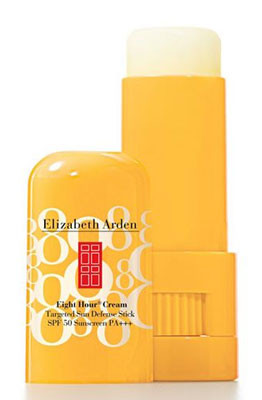 If you need a high-protection sunblock that's super portable, look no further than the new Elizabeth Arden Eight Hour Cream Targeted Sun Defense Stick SPF 50 ($20). Its name may be as long as the stick is, but the stuff inside really is great. It smells like one of my favorite warm weather scents, citronella, and the consistency is nongreasy, which is rare for a stick sunblock.
Miraculously, I also haven't broken out while using it, which is only true of one other sunscreen, Suntegrity, which is my usual daily-wear sunblock.
The stick is also water- and sweat-resistant, so although you'll still have to reapply after a swim or an arduous hike, it doesn't just melt off of you the way most sunscreens do. My only quibble is with the price. I know good sunscreen isn't cheap, but for such a small size, it would be nice to see the price a tad bit less expensive. However, a little goes a long way; I've been using it all over my face a couple times a day for a week, and I don't think I've even managed to make a dent in it. That's why this stick will be sticking around my beauty bag this season.