Review of Estee Lauder Pleasures Bloom
Estée Lauder's New Fragrance Is Bloomin' Lovely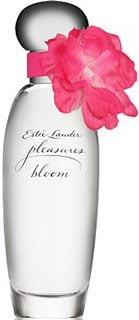 While Estée Lauder fragrances are uniformly nice, many of them just smell like they're designed for a woman who's a bit more mature. Imagine my shock, then, when I spritzed on the brand's new Pleasures flanker, Pleasures Bloom ($52), to discover that it's eminently fresh and quite youthful.
Bloom is a fruity floral, like most scents for young women, and there's nothing artificial about the aroma. In fact, it smells a heck of a lot like one of my favorite scents, Hanae Mori Butterfly ($90), although a little less sweet and rich.
Bloom opens up with a soft burst of honeydew melon, followed by a round peony note that complements it nicely. Then, it settles down into a honeyed peony that wears close to the skin. It's not super complex, but it's distinctly pretty. And if you love Butterfly, it's a nice lower-priced alternative.