Review of the Focus on Lips Product Line
Doing Drugstore: Focus on Lips Has Applicators Like Whoa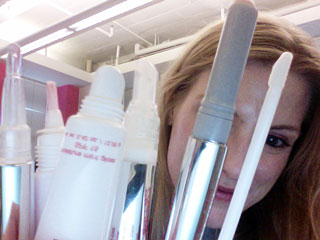 Did you know that CVS is producing its own makeup now? Yup, it's true, and its latest endeavor is a passel of lip treatments called, logically, Focus on Lips. I'm always on the hunt for good, inexpensive drugstore products, so I decided to give the line a trial run. They make everything from a peppermint lip gloss (almost exactly like C.O. Bigelow's) to a scuffer to primer. Want to know how the store brand stacks up? Just keep reading.
If I could only buy one item out of this lineup, it would be the Apeel Lip Heal ($8), which is an exfoliator with a delightful little scrublet applicator and lots of shea butter. It feels really good when you're putting it on, left my lips softer and fuller looking, and it didn't dry me out at all.
The Plump & Reboost Super Plumper ($8) looks a lot like Freeze 24-7's PlumpLips ($40), and it did make my lips look a little fuller, but because the plumper and lip gloss both contain peppermint oil, which tends to irritate my skin, I wasn't a huge fan. Once the minty tingling goes away, my lips are always left drier than they were, and for me, it's just not worth it.
The Primer and Liner ($11) smells the same yummy way Urban Decay products do (vanilla marshmallow-y), and when I applied a bright pink lipstick over them, it did go on a lot more smoothly. Sadly, the product didn't help keep my lipstick on at all. It definitely doesn't enable you to eat or drink, and even rubbing your lips a little ruins a highly pigmented pout.