Review of MAC Pro Longwear Concealer
Found: A Concealer That Covers Both Acne and Dark Circles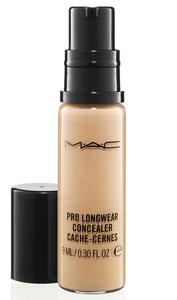 While it's certain that Shakespeare was not referring to hyperpigmentation, scars, or the markings of acne when he wrote, "Out, damned spot," he was actually on to something. Let's face it, a good concealer is a necessity. Many makeup artists recommend going with two different shades of concealer: one for under the eyes and one for other imperfections, like acne. With MAC's Pro Longwear Concealer ($16), I was able to cover both areas with impressive results.
While creamy to the touch, its surprisingly lightweight formulation provides medium coverage that dries to a semimatte finish, leaving ample time to blend while you're working with it. It's also easy to layer in case you're going for some full-on concealing. Also, not only is it crepe-, cake- and slip-resistant, but it wears for a very (very) long time. The only thing I'd change about the Longwear is the pump. It dispenses far too much product, and because of the way it's attached to the glass vial, I'm concerned I won't be able to reach every last drop toward the end.
Speaking of that glass vial, I drop things — a lot. And so far Longwear's been put through the ringer countless times, holding up to all sorts of klutzy action. For its resiliency, relatively low price, and multitasking abilities, this concealer is a great buy.