Review of Maybelline Eye Studio Lasting Drama Gel Eyeliner
Cheap Waterproof Gel Eyeliner. . . If You Can Get It Open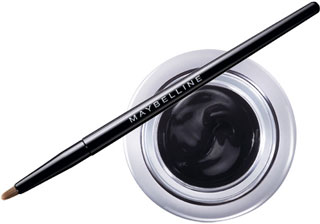 I'm a huge fan of cream and gel eyeliners, so you can imagine my glee when I saw the new Maybelline Eye Studio Lasting Drama Gel Eyeliner ($10). It's about half the price of the gel eyeliners I usually buy, and since it's waterproof, it stands up to waterlining — my eyeliner application method of choice.
Sounds great, right? Except that it almost didn't get reviewed at all, because when I brought this back from a lunchtime Walgreens run, I couldn't for the life of me get the lid off the tiny jar. Several other people at Sugar HQ also tried to open it, but to no avail. Finally, after minutes of exertion, a co-worker finally got it open. What the heck is wrong with this jar, and what's the product inside actually like? To find out, just read more.
Upon wrenching the jar open (after beating it on a desk, no less) our hero discovered that the lid was stuck because the glue that had been used to adhere a small piece of paper to the lid's underside had dripped out all over the jar, fusing the entire thing together. There's clearly an issue with the manufacturing process, and I very nearly gave it a bad review just because it was impossible to use.
And that's too bad, because if the container hadn't been so screwed up, I would love this product. The application is smooth, the texture is good, it's nicely pigmented, the brush is easy to handle, and for the price, it stays put rather well. A noticeable amount of it does migrate down to my undereyes by the end of the day, but compared to other gel liners, the staying power is very good. If you don't have eye makeup remover pads or something similar handy, you'll need them for this one. I've done a shoddy job taking it off a couple times and woken up looking like Zombierella, which entertains Mr. Bella but might not be such a good thing overall.