Review: Maybelline Ultra Brow Brush-On Color
Found: An Inexpensive Brow Powder With Natural-Looking Results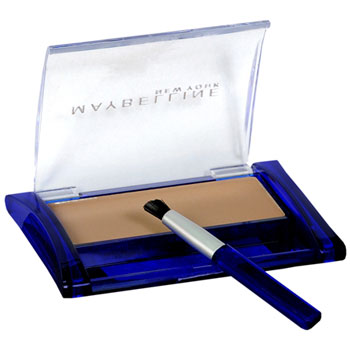 While I find brow gels and pencils to be OK in a pinch, they tend to be a tad heavy and unnatural looking. That's why I really cannot go without a lighter-textured brow powder. Recently, when my beloved Anastasia Brow Powder Duo took an accidental tumble, resulting in about a billion little taupe-colored powdery pieces all over the floor, I really didn't want to fork over the $22 to get a replacement.
Instead, I headed to Target and came upon Maybelline's Ultra Brow
Brush-On Color ($5), available in dark or light brown (I chose the latter). Go with the darker hue if you have deep brunette or black hair, or also if you're a light-to-medium-toned brunette who wants to go for a darker brow à la Michelle Williams kind of thing.
While it's probably just best to find another use for the little brush that the Ultra Brow comes with (tile cleaner?) and let a better quality brow brush with a spool-y end be its stand-in, I found this product to be an impressive substitute. The texture's not too chalky or so powdery that remnants flake down your face, and I loved the long-lasting fuller, natural-looking brows I got with this powder. It's got neither a harsh or obvious finish, too, so even the most subtle among us should be pleased. Perhaps a few more shades added to the line would be nice, though.