Review of ModiFace Makeup Live iPhone App
iPhone App of the Week: Makeup Live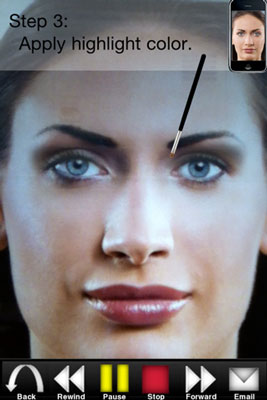 With the semirecent launch of the iPhone 4, comes the ability to magically transform your phone into a "mirror" thanks to the second camera feature. And because this feature now exists, ModiFace, the makers of the popular (and fun) Makeup app, has developed a new one that allows you to virtually apply makeup in real time directly onto your face.
Makeup Live ($1) uses 3D technology to enhance your mug with virtual eye makeup. All you have to do is choose from one of eight eye makeup looks, hold the phone really steady so that your face lines up with the app's eyeball outlines, and listen for instructions on how to get the look — all while a virtual brush applies the virtual makeup. To see what I thought, just keep reading.
For me, the biggest takeaway with this app is that you learn eight new ways to wear eye makeup. While recommended brushes, along with the exact shade palettes used, are provided in the audio descriptions, it would also be nice to have a visual recap at the end with links to products. The app could use a little tweaking here and there, by including sharper images and branching out beyond eye makeup (or at least include ideas for coordinating cheek and lip palettes). But for just a buck, it's a whole lot cheaper than having your own personal makeup artist — and besides, there's always something kind of fun about applying makeup via technology, isn't there?