Review of Neutrogena Nourishing Eyeliner
Found! An $8 Eyeliner That's Great For Green Eyes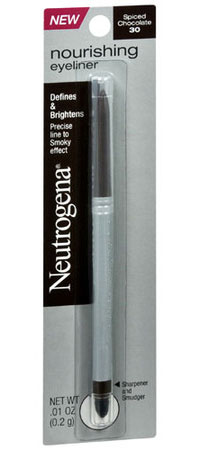 When it comes to eyeliners that get the coveted go-to status, I look for creamy texture, an easy-to-smudge quality, and most importantly, something that doesn't creep down to my cheekbones by 5 p.m. By George, I think I have found a match in Neutrogena's Nourishing Eyeliner in Spiced Chocolate ($8). A multifaceted dark chocolate shade with the subtlest of bronze-toned sparkles, this rare gem of a product makes green eyes truly pop — something that I haven't found in a liner for ages.
Even better? The formula glides on very smoothly, even on the hard-to-work-with waterlines, so you won't have to pull and tug to get just the right deposit of color. In addition, it smudges very easily thanks to a rubbery blending tool on the tip, which also includes a tiny pencil sharpener on the opposite side.
Something about this particular shade reminds me of a Crayola crayon I adored back in the day, although the name escapes me. (Anyone? Bueller?) And while I haven't tried the other available shades, perhaps you'll find your own eye-popping shade within Neutrogena's palette.