Review of New Kat Von D Adora Perfume From Sephora
Kat Von D's New Adora Perfume Is Pretty Sweet
As POPSUGAR editors, we independently select and write about stuff we love and think you'll like too. POPSUGAR has affiliate and advertising partnerships so we get revenue from sharing this content and from your purchase.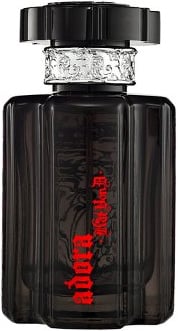 The multiply tattooed Kat Von D already has two perfumes out (Sinner and Saint), but now she's bowing a third, called Adora ($55). I checked the bottle out because it's rather pretty and has metallic panels inspired by the art of famed Art Nouveau illustrator Alphonse Mucha.
When I actually got around to spritzing it, I was pleasantly surprised by the scent, too. It's a fruity floral, like most celebrity fragrances, but instead of the weak white musk most stars' scents use as a base, Adora dries down to a sweet, natural-smelling patchouli. While it's still a "blended" floral that's not recognizable as any real flower, it's heady and has none of the metallic undertones many similar fragrances do. If you love sweet, woody scents, consider giving this one a sniff the next time you're in Sephora.