Review of Pre de Provence Sage Soap
Found: A Natural Dupe For Deodorant Soaps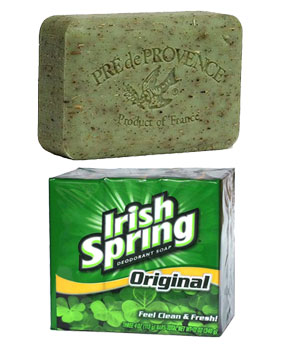 Growing up, my dad was — and still is — quite allergic to fragrances. It was all about scent-free detergent and soaps in our household. I think that's why I always liked staying at my aunt's house just a few miles down the road because she had the good stuff in her shower. She had Zest.
While probably best known for their fresh, clean, perk-you-right-up aromas, deodorant soaps such as Zest, Coast, Irish Spring, and the like didn't always have the reputation of being the most moisturizing. Formulas have improved over the years, but I've still always had a fondness for the eye-awakening aromas they deliver.
Recently, I came across a natural dupe, Pre de Provence's Shea Butter Soap in Sage ($4). While the body cleanser's not an exact replicate of those revitalizing soaps I grew to love back in the day, it is still rather reminiscent of them. And while Pre de Provence's version isn't exactly cheap (call it a reverse dupe, if you'd like), it's made with eco-friendly pure essential oils and a vegetable base. It's also free of parabens and packaged up in biodegradable cellophane. Not only that, it has those feel-good loofah-like bits in it that I like so much. Full of natural win.