Review of Purple Lab NYC Pearlesque Show Primer
Prime Time: Purple Lab NYC Pearlesque Show Primer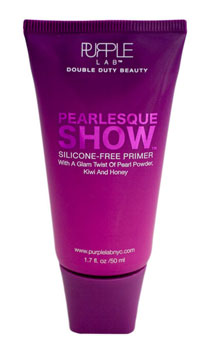 Remember when it was mascara madness a few months ago? Well now, it's "prime time" here at Bella. Over the next few weeks, I'll be reviewing lots of new primers.
The majority of these premakeup products contain silicone to make them glide over the skin smoothly, but not Purple Lab NYC's Pearlesque Show Primer ($30). Yet did that missing ingredient hinder its performance? Find out when you read more.
First, I was alarmed by the aroma, which was oddly reminiscent of those old-school store-brand aloe body lotions your grandma might have picked up at the drugstore. But after the product soaked into the skin, the scent dissipated, and my foundation and concealer glided over really smoothly. (And I mean real smooth.) Purple Lab claims its primer is "ultramoisturizing," and while I can't say I completely agree with that statement, that's actually not a bad thing.
What I will say is that I got absolutely no pilling, flaking, or slippage with this product. Instead, I was left with the subtlest of sheen without the shine — a huge plus in my book. Formulated with real pearl powder, antioxidants like vitamin C, kiwi, and grape seed extract, along with ginkgo biloba to boost collagen, this is one sophisticated little primer that I highly recommend. (If only it weren't on the pricey side.) Stay tuned for more prime time action coming your way.