Review of Revlon Just Bitten Lip Stain and Balm
Revlon's Just Bitten Lip Stain + Balms Take the Dry Out of Lip Stains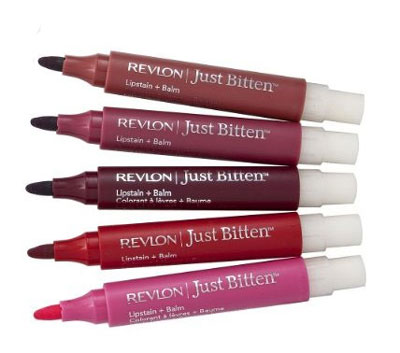 The problem with many lip stains is that they tend to feel or look dry on the lips, but with Revlon's new double-ended Lip Stain + Balm ($8 each) — not to be confused with the brand's Just Bitten Lip Stain from a few years back — these types of problems are less of an issue.
With 10 shades in the collection, ranging from a rich dusty rose to an intense red, the stains are a lot darker and bolder than what the outer packaging would have you believe. (I tried Beloved, which turned out to be a bright berry hue.) You can, however, easily adjust the intensity by layering on more product or thinning it out with the balm. So to see the pros and cons of this multitasker, just keep reading.
The cons: While the balm portion of my lip stain hasn't fallen off, some women have had problems with it breaking since it isn't retractable. Also, the lip stain dries rather fast, so if you don't get it on quickly, you can get patchy results. To solve that problem, I found that if I used the tip of the "marker" to outline, and then used the sides to fill in the rest of my lips, I got a more even distribution. Also, remember how when you were a kid, and you would try to unsuccessfully use markers over crayons? That's the same deal here. Just be sure to wipe off any of the balm first before reapplying the stain or you'll block up the felt applicator.
The pros: The color will last for several hours, fading into a pretty, subtle shade. You'll probably still need to reapply the balm every so often to keep your lips from getting dry, but you'll also notice hardly any color transfer onto cups or your significant other's cheeks. Mr. Bella likes. For longer-wearing results, a lip exfoliator preapplication would be a great idea. This is definitely the kind of product you will either love or hate, but if you prefer the color intensity of a lip stain, along with a semimatte finish, you'll probably be in the "love it" (or at least "like it") category.