Review of Revlon Perfect Heat Professional Ceramic Straightener
Reader Review of the Day: Revlon Perfect Heat Professional Ceramic Straightener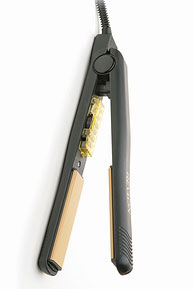 Reader clarkbar9 didn't get what she bargained for after using the Perfect Heat Professional Ceramic Straightener ($30) from Revlon, and here's what she had to say:
I purchased this because I had read a review that said it was a great value straightener. I used to have a much more expensive one, so I figured, why not save the money? Well, now I know why. It just doesn't flatten the hair as smoothly as more expensive products that I've used. I used to be able to use my straightener to twist my hair to give it texture, or to create crimpy curls, but this simply isn't strong enough. Even just using it regularly, I have to take twice as much time to go over each section of hair. It's worth investing in a better product.
Got a suggestion for an impressive low-cost straightener? Tell us all about it on the Product Reviews pages, where you can sort through over 50,000 beauty items to get other reader's opinions. We love to hear your input.