Review of Salma Hayek's Nuance Face Creams
What We're Sweet On: Salma Hayek's Affordable Skin Creams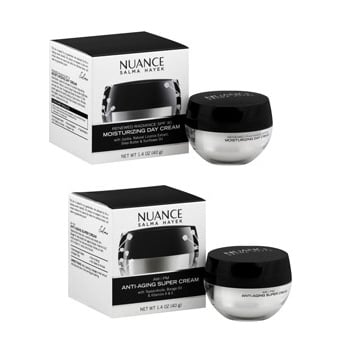 The problem with some skin creams, whether they're out on drugstore shelves or found locked behind the counter in the exclusive beauty section at the department store, is that they can actually be greasy or heavy. But such is not the case with Salma Hayek's brand-new Nuance Renewed Radiance Moisturizing Day Cream ($17).
Score for the SPF 30, but add a quadruple score for making a cream that feels light on the skin, adds a bit of a glow, still hydrates, and costs under 20 bucks. Includes natural licorice extract to brighten, and blue agave and prickly pear extracts to treat dryness and improve firmness.
For a multitasking option, try Salma's AM/PM Anti-Aging Super Cream ($20). Not only does it smell fresh and bright, but thanks to a key ingredient (bark from the tepezcohuite tree), it's antioxidant rich and works to tone the skin — and at a very reasonable price. I think we can all get behind that.