Review of ShaveMate Diva 6-Blade All-in-One Razor
Sampling the Razor With the Built-In Shaving Cream Handle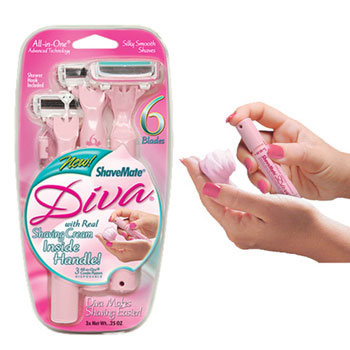 I'm a sucker for a great multitasker, so when I heard about ShaveMate's Diva 6-Blade All-in-One Razor ($8) with shaving cream contained within the handle, I knew I had to try it. While not completely faultless, this disposable razor screams perfect-for-travel. I also like the fact that this product's moisturizing "glide strip" isn't excessively gooey or gummy.
While this razor has a slightly curved rectangular base on the end, I tend to prefer a wider, rounder shape for the legs. You see, impatient me tends to nick myself with narrower razors, especially of the disposable sort. But the Diva's design makes it particularly good for smaller surface areas, like under the arms and bikini line. To see more pros and cons, keep reading.
Let's face it: disposable razors aren't super eco-friendly, and disposing of miniature, used shaving cream containers might not be as easy as tossing them in the recycling bin. I do love the fact that the shaving cream portion twists to lock (imagine the mess if it didn't) — and I also think the portion of cream dispensed is just the right quantity. The amount of product contained within the razor isn't exactly boundless, but it is a disposable product after all. Although it shaved fine, I did not get a super close shave with this razor, and the blade/cream combo only lasts for about a week tops. But because of its relatively reasonable price point and its innate travel-friendly nature, it's actually quite a handy (har har) tool.