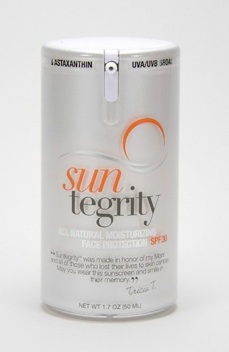 The latest and greatest product to come across my desk has been Suntegrity Moisturizing Face Protection SPF 30 ($45), a zinc oxide sunscreen that works beautifully. Suntegritiy's founder, Tricia Trimble, decided to get into the sunscreen business after her mother died of skin cancer, and her commitment to creating a healthy, eminently wearable sunscreen is obvious.
There are several reasons to like Suntegrity. Since it's zinc-based, it has great full-spectrum coverage, and there isn't necessarily the same risk of allergic reaction some chemical sunscreens have. It also goes on white so you can see where you've applied it, then it dries clear. And it smells faintly of orange sherbet.
The only thing I'd keep in mind with Suntegrity is that it's not water-resistant. For me, that means this is a great everyday sunblock, but maybe not what I'd use on vacation somewhere beachy or for a daylong hike, since I'd be reapplying constantly. Have you tried Suntegrity?