Review of Swell Skin's Face Treatment and Oil of Seabuckthorn Products
Found: A Two-Step Skin Care Regimen For Clearing Acne and More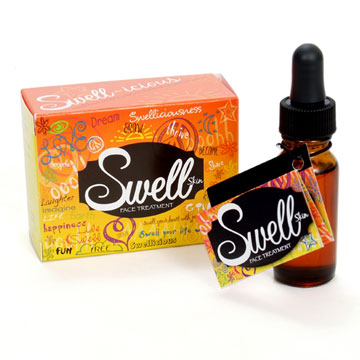 When I heard about Swell Skin's two-step skin care regimen, which includes a bar soap and an oil, I knew I had to try it. First, how easy is that? Second, products are made using wonder ingredient sea buckthorn oil, rich in antioxidant vitamins C and E, emollients, and essential fatty acids.
The brand's Face Treatment ($32), used in step one, is a very mild soap in bar form. It has just the perfect amount of sudsing action with a faint, fresh nonsynthetic aroma. Skin feels clean and refreshed after use, with no painful stinging sensations or can't-move-my-face tightness. See more when you keep reading.
As for step two, the pure Oil of Seabuckthorn ($22), let's just say the scent (which I will gauchely describe as a cross between celery and tobacco) is one for which it might take some time to become accustomed. It's not that it's actually all that bad; it's just very earthy. However, the aroma does eventually fade and the results are worth it. After getting one of the worst chin acne breakouts in recent history, this oil helped to gently erase the spots, as opposed to completely eradicate them with harsh, overly drying ingredients.
For $49 you can buy the products together; not bad for a skin care line that provides relief for varying conditions such as acne, rosacea, wrinkles, and uneven tone or surface. The bar soap is a tad pricey, but there are ways to quell that issue. Since you only need a little bit of each product for the effects to work, and skin is left smooth, plump, and refreshed overall, I think Swell is pretty — you knew it was coming — swell.