Review of Urban Decay's Body Jewelry Temporary Tattoos
Urban Decay's Temporary Tattoos Now Have Me Addicted to Ink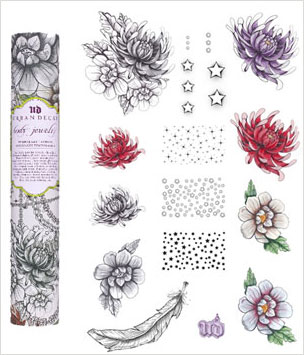 Temporary tattoos are indeed very of-the-moment, and that's exactly why I had to try Urban Decay's Body Jewelry ($25). Inside its cylindrical encasement — which kind of looks like something an architect might use to carry mini samples of blueprints — there are three full sheets of hand-drawn designs, full of things like charms, chains, feathers, and colorful flowers.
As for the application process, it was so easy that I literally just used a cup of water sitting at my desk and some napkins left over from lunch (unused, of course) to get them on. And as long as you don't rub them against anything with great frequency (like your mouse pad) or use oily products on them (like lotion), they should last you anywhere from two to five days solid.
The next time I apply these temporary works of art, however, I would take better care to cut them precisely for a customized fit. Because I rushed through it, the "bracelets" I created didn't exactly come together correctly at their faux clasps. I would also get more imaginative by layering pieces over each other for more visually interesting results. For as many different looks you'll be able to create with these tats, and the strangely addictive amount of fun you'll have using them, I highly recommend making the investment. Plus, they make great conversation pieces.