Review of Vibrating Massager Free iPhone App
iPhone App of the Week: Vibrate Massager Free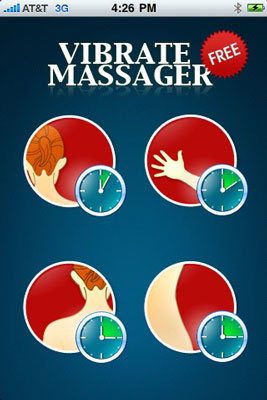 When the iPhone first came out, a skit on Late Night With Conan O'Brien joked that the miracle phone could do it all. But can the iPhone give a nice, stress-relieving neck, hand, or wrist massage?
OK, I know you all probably have your minds in the gutters already upon hearing of the Vibrate Massager app. And while yes, there are some apps out there specifically targeted for, ahem, other purposes, this particular one is touted as a "relaxing and portable vibrating device to let go of your knotted muscles in the office or after workout." Sounds good to me. But did it work? Find out when you read more.
This free app has four options from which to choose: neck, wrist, shoulder, and waist. Within each option, you can adjust the vibration levels for customization. I discovered that if I keep it going long enough and apply enough pressure, I definitely start to feel relaxed. However, something tells me that the tranquil state I achieved is mostly due to the whole white noise aspect of it.
Unfortunately, it's a bit awkward to hold the phone onto the area being massaged, and as you may have expected, it's not really that discreet with all the buzzing noises. Essentially, you just don't get that feeling of contact you'd experience from a true massage — even those mechanical chair pads you can try out at the mall at least have some merit. However, for a bit of novelty, the Vibrate Massager delivers some fun. And hey, it's free.