Review of iPhone OPI App 2010-03-04 06:00:28
iPhone App of the Week: OPI's Try-It-On Feature Goes Mobile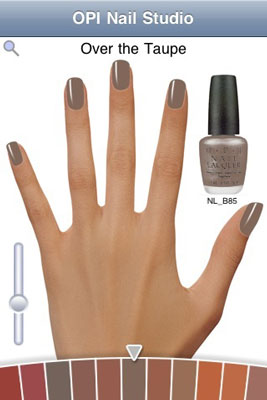 You probably already know that you can virtually try on OPI nail polishes right on the brand's website. Did you also know that you can paint your nails with a click on the iPhone, too? The free OPI App allows you to try on all of the company's over-200 offerings, like Over the Taupe, a nice dupe for this Spring's trendiest shade.
Due to customer feedback, OPI's working on creating a place to store your favorite shades, along with making improvements on the accuracy of finishes so that your sparkle or shimmer will truly sparkle or shimmer.
Pros: I like that you can adjust your skin's tone to match your own coloring, and that you can both search by name and by color at the wheel selector at the bottom.
Cons: It would be nice to see some trend alerts and some kind of information regarding the latest collection, but all in all, it's a fun app that's easily addictive. Have you tried it?